It's a Monday evening between her working hours and a swimming session that Jules had spared her time to talk about her volunteering at Shelter Movers. She joined the team soon after arriving in Montreal and since has completed over 18 moves. Each one is unique and requires, as she said, the desire to go above and beyond to help someone in need.

When she left the UK to settle in Montreal, volunteering was a great way to find friends, connect with the community and learn some French. More so, it was her way to give back as she's grateful for the life she has. Pay-it-forward brings her joy and some meaning to her life. She told me that "Shelter Movers has her heart" as she can relate to those she's helping."

When the Montreal Chapter of Shelter Movers was getting started, Jules helped with 2 to 3 moves a week. According to her, helping with moves is relatively easy as there's no need for certification, just some physical strength. So, she encourages others to do the same.

Jules has been with us for such a long run now, and she's committed to the team. Never in her life has she been involved in volunteering for so long with an organization. This time is a bit different; it sounds more like a call.

Sadly, life is taking her away from Montreal, but she's hoping to find a place like Shelter Movers to put her generosity. When I asked her what souvenir she'd carry of Montreal, she said: Shelter Movers.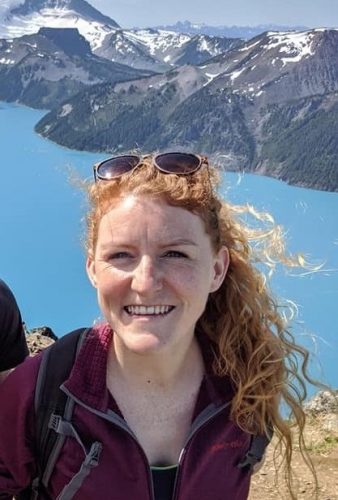 C'est un lundi après-midi, entre ses heures de travail et une séance de natation, que Jules accepte de nous rencontrer pour nous parler de ses activités de bénévolat au sein de Transit Secours. Elle s'est jointe à l'équipe peu de temps après son arrivée à Montréal et, depuis, elle a complété plus de 18 déménagements. Chaque déménagement, dit-elle, est unique et nécessite qu'on veuille se dépasser pour aider une autre personne.

Lorsqu'elle quittait la Grande-Bretagne pour venir s'installer à Montréal, le bénévolat était un excellent moyen de rencontrer des gens, de se faire des amis et d'apprendre le français. Pour elle, c'est une façon de donner au suivant puisqu'elle est extrêmement reconnaissante de la chance qu'elle a eue. Donner au suivant la rend heureuse et donne un certain sens à sa vie. « Transit Secours, dit-elle, a gagné mon cœur parce je peux m'identifier aux gens que j'aide ».

Lors de l'ouverture de la succursale de Transit Secours Montréal, Jules faisait de 2 à 3 déménagements par semaine. Selon elle, c'est simple de contribuer à ce type d'aide, puisqu'on n'a pas besoin d'un diplôme, mais seulement de la force physique. Donc, elle encourage les autres à donner un coup de main, à leur tour.

Après des mois à côtoyer les autres bénévoles, Jules est extrêmement dévouée à l'équipe de Transit Secours. Jamais s'est elle impliquée à faire du bénévolat pour aussi longtemps avec un organisme. Ici, au sein de l'équipe, elle a trouvé sa place.


La vie l'amenant ailleurs, elle doit maintenant quitter Montréal, mais cherchera un organisme dont la mission reflète celle de Transit Secours. Lorsque je lui ai demandé quel souvenir elle gardera de son passage à Montréal, elle me répond : Transit Secours.