The story of Burnaby's Dixon Transition Society begins nearly five decades ago, in 1973, when three women – all healthcare professionals – started a counselling program for parents with children in foster care. Those early group sessions held evenings around a kitchen table led to the creation of The Life Line Society, which opened Burnaby's first emergency shelter for women and children in 1982 and the municipality's first – and only – transition house three years later.
Today Dixon provides a range of services in addition to transitional housing programs including individual and family counselling, support for clients' children through the Children of Dixon program, workshops that help empower women to gain skills and live independently, and housing support for clients who are preparing to leave Dixon's housing facilities.
As an organization that provides first, second, and third-stage housing, Dixon needs ways to help clients move their belongings. When the opportunity arose in 2018 to work with Shelter Movers Vancouver, the staff at Dixon were enthusiastic. "It's free of cost, it's safe and it's trauma-informed, [so] we were more than happy to get into that partnership," says Mishaal Kazani, Communications and Development Coordinator for the Dixon Transition Society.
Most of us take it for granted that if we're moving we can enlist family or friends to help. And for those who can afford it, there is the option of hiring a private moving company. But for many, if not most, Dixon clients, neither of these options are viable. "The women who come to us tend to be isolated and disconnected, and therefore lack a support system," explains Kazani. And hiring a private moving company is not realistic for women who have been abused not only physically and emotionally, but also financially. "They have very little control over their finances. It's not something that they can just access the money [for] and do," she says.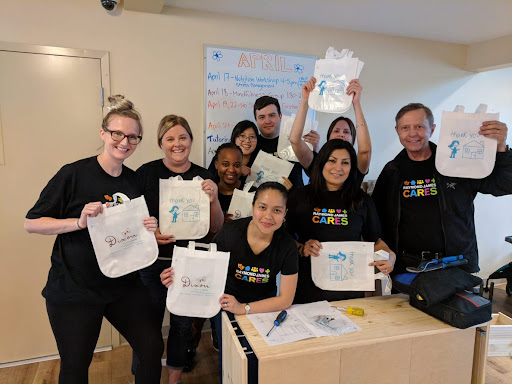 While many Dixon clients are recipients of income assistance and therefore may qualify for a government sponsored move, the process can be overwhelming. The applicant must obtain at least two quotes, coordinate the logistics with various parties, and complete the required paperwork on their own. Language barriers can further complicate the process, Kazani notes, as many Dixon clients do not have English as their first language, and therefore require the assistance of the Dixon Housing Support Worker.
With the help of Shelter Movers, six to eight Dixon clients are provided with moving services each month. Kazani and her colleagues consider Shelter Movers to be a "vital part of the organization and the work that we do," especially appreciating the volunteers' respect for confidentiality. "There are never a lot of questions during the move – it's 'we're here to do the move' and that's it." Kazani adds that Jennifer Jin, Dixon's Housing Support Worker, expressed to her that "she doesn't know how Dixon would be doing the work we're doing without Shelter Movers."
Shelter Movers, with its combination of flexible scheduling and dependable volunteers, helps Dixon clients get to the next stage of their journey by providing a safe and trauma-informed service. "I would never have been able to move without their help," recalls a former Dixon client. "They moved my house in the peak of summer right at the peak of the [2021] heat wave – I was worried they would cancel due to the weather but not only did they show up, they also helped disassemble some of my furniture."
Jennifer Jin, Dixon's Housing Support Worker, is the person Dixon clients turn to when they need help moving. Jin submits moving requests to Shelter Movers, helps the client schedule the move date, and frequently gets feedback from clients when the move is complete. "I just love the [Shelter Movers] volunteers who come and support our clients." she says. For the clients, she notes, it's the small gestures that resonate the most. Jin recalls one client telling her how hungry she had been during a long moving day and how appreciative she was when the Shelter Mover volunteers offered her their box of timbits.
Kazani's position requires her to keep up to date with statistics and studies on gender-based violence. She recently participated in the One Billion Rising event, a global campaign founded by writer and activist Eve Ensler, to bring awareness to the fact that 33 percent of women worldwide will be subjected to physical or sexual violence in their lifetime. In Canada that figure is even higher at 39 percent according to a 2019 Statistics Canada report on gender-based violence. "It's so overwhelming and sad that that's the reality that we live in – for me that's the most challenging part," she says.
A chance meeting with a former Dixon client, who was dropping off a large donation of new clothes, reminded Kazani how the right support can change lives. Having been supported by Dixon during a difficult time, this woman had now returned to show her gratitude. "She was saying how well she was doing – financially and emotionally – and she was so grateful to have had that support when she needed it," said Kazani. "I was so happy to hear that she was doing well and for her to be able to come back after experiencing trauma herself."