At Shelter Movers we are immensely proud of the exceptional group of leaders who guide and inspire our organization's vision, goals, and impactful initiatives. We are fortunate to have a dynamic and talented group of individuals who are committed to making a positive impact in our community right here in Nova Scotia. 
Today, we want to introduce the awesome members of the leadership team, providing you with a glimpse into their backgrounds, motivations, and aspirations. Let's dive into it!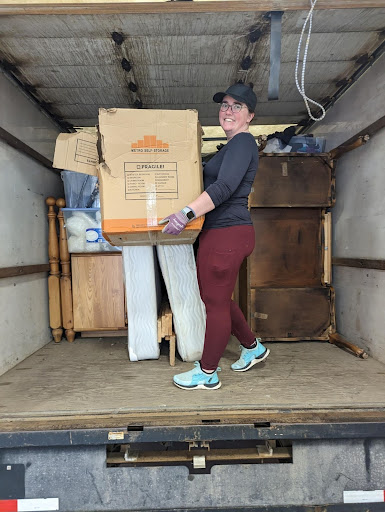 Meghan Lawrence – Chapter Director
Graduated with Honors in Criminology from Saint Mary's and immediately started working in government. In July 2019, Meghan joined SMNS as a mover and driver. This essentially led her to take on various other roles such as Intake Coordinator and Supervisor, Move Coordinator, Operations Manager, and now Chapter Director.
Fun Fact: I'm no stranger to moving! Before I bought my home in 2020, I had moved over 30 times!
Q: What led you to your current position?
In my time as Ops Manager I was able to connect with and support so many amazing clients on their journey. SM gave me the opportunity to explore my creativity and make lasting change. Fast forward almost 2 years later and the Chapter Director position becomes vacant. I won't lie, the decision to apply wasn't an easy one. I loved my time as Ops Manager so much; I loved interacting daily with our clients and volunteers. Here we are, 2 months in, and I've loved every second of it. While I don't get to directly support the clients or volunteers as much as I once did, I do get to look at strategic planning and create as many spreadsheets as humanly possible (which for anyone who's worked with me knows, I LOVE)
Q: What is the most significant part of being part of Shelter Movers?
For me, the most significant part of being a part of the SM team is the tangible difference we make. I have been on countless moves where I get to watch the client go from uncertain and insecure and blossom into assured and excited for what lies ahead. As someone who left an abusive relationship at a young age, I know firsthand the strength and courage it takes to leave. If I can be even just the smallest part in someone's journey to safety, then I know what I'm doing matters.
Margaret Gnemmi – Operations Manager
Margaret was born and raised in the Annapolis Valley here in Nova Scotia, and continues to only live where the water is less than a 10 minute walk from my front door. She's been with SMNS for 2 years now and has dabbled in almost every area of the operations team since she started in 2021.
Fun Fact: Though it does not seem very relevant, I have a degree in Nutrition from Acadia University. I find myself using my degree every day in ways I would not expect. I am so thankful to my professors for teaching us about the Social Determinants of Health and giving me an education based on helping and serving others.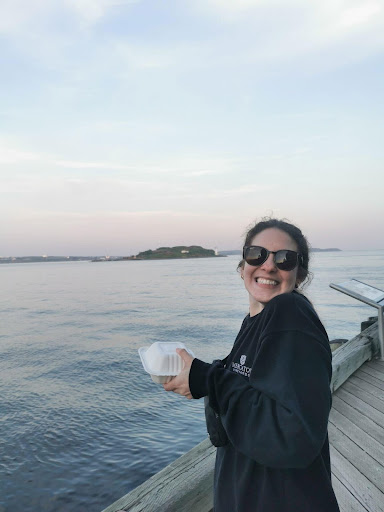 Q: What led you to your current position?
In 2022 I was offered a Canada Summer Jobs position as the Assistant Operations Manager, and with this position I also started leading moves. After the summer position I continued as a MC and took on the role of Supervisor for our Scheduling team. A few months later, I was given the opportunity to become an employee with SMNS as one of the Move Coordination Supervisors and shortly after that the Operations Manager position was being posted and I knew I had to apply!
Q: What is the most significant part of being part of Shelter Movers?
I did not ever think I would go from casually volunteering to stepping into a new career, but each day I realized more and more how much I appreciated the work that we do and the difference we can make! The most significant part for me is the connection between the Move Coordinator and the client. There is nothing that compares to the way you feel after a move when the client tells you how much one move has helped set them up for a new future.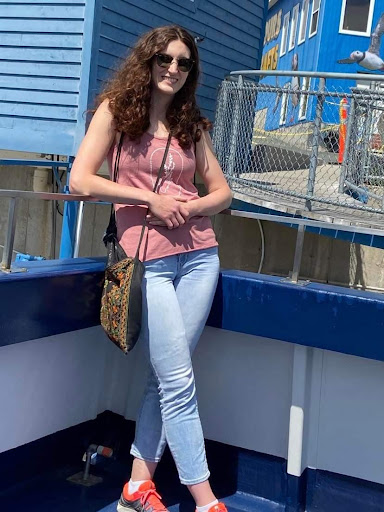 Katie Redekopp
Volunteer Services Manager & Associate Operations Manager
Katie has been with Shelter Movers for 3 years. She started as a mover and driver, then looking for more ways to get involved, joined the Move Coordinator team and started leading moves.
Fun Fact: My happy place is by a lake somewhere in the wilderness.
Q: What led you to your current position?
I quickly moved into the MC Supervisor role and recently stepped in as Volunteer Services Manager and Associate Operations Manager. I am happy to be in this unique dual role as it allows me insight into both functions, and I am better able to support the growth of our Chapter.
Q: What is the most significant part of being part of Shelter Movers?
 I love working for Shelter Movers. I deeply empathize with the barriers survivors face when leaving. It means a great deal to me to be a part of an organization that helps remove some of those barriers. It feels great to work with other staff and volunteers toward the common goal of helping those in need get to a life of safety.
Natalie Knickle – Marketing & Communication Manager
Born and raised in South Shore Nova Scotia, more specifically Lunenburg. Natalie's educational background includes a Bachelor of Public Relations from Mount Saint Vincent University and she has been working in the nonprofit sector for over 5 years.
Fun Fact: I'm a major Swiftie!!! Taylor Swift is the most incredible musician of our time AND I'm a golden retriever mom to a golden boy named Remington.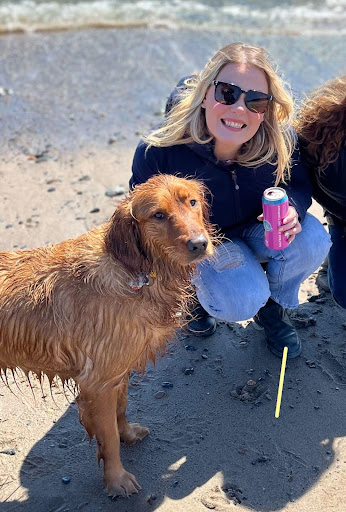 Q: What led you to your current position?
I first heard of Shelter Movers in 2020 but with the pandemic and everything going on I didn't have the capacity to volunteer. Flashforward to 2022, I was working in a corporate setting and missing that feeling of drive and passion which led me to apply to my current role and officially became a part of the team in October 2022 as the Marketing and Communications Manager for the Nova Scotia chapter.
Q: What is the most significant part of being part of Shelter Movers?
I've always had a passion for communications and marketing in the nonprofit world. Driving a mission that impacts real people and being inspired by a cause that is important to you makes it all worth it. SM is an impactful organization that supports so many people in our province and across the country, it is incredible to be a part of ending gender based violence.
SMNS is fortunate to have these dedicated and passionate teams of individuals who are committed to making a positive impact on the community and clients we serve. Each member brings a unique set of skills, experiences, and expertise, all united by a shared mission to serve our community and create lasting change. Stay tuned for more updates on our remarkable team and the incredible work we do here at SM!