Trucks aren't typically the stars of a story, but when it comes to Shelter Movers, they play a leading role. Trucks give Shelter Movers clients the chance to retain their belongings while transitioning to a new life and the importance of that, both economically and emotionally, can't be overstated.
That is why a strong partnership between a Shelter Movers chapter and a trucking company is crucial. For Shelter Movers Vancouver (SMV) that partner is Penske Truck Rentals, a division of Penske Truck Leasing North America, a multinational corporation based in Reading, PA. SMV volunteers pick up trucks at either the Burnaby or Surrey Penske locations for moves that take place throughout Metro Vancouver. 
What began in 2018 has developed into a strong relationship based on flexibility and trust. Alexia Diablo, Rental Manager for the Burnaby and Surrey Penske locations, happened to be in the office four years ago when Brian Vidler, SMV's first director, walked in to discuss setting up a partnership. A meeting was set up and "that was the start of our love story," Diablo recalls with a laugh. 
SMV's Operations Manager, Stephanie Ling manages a move from beginning to end, starting with the initial referral. She and two supervisors are in regular contact with Penske staff and Ling appreciates their flexibility and understanding when it comes to the inevitable schedule changes. In the event that a volunteer is running late and doesn't arrive before the rental office closes, Diablo is able to coordinate with onsite afterhours staff in order for the truck to be released. "It's about whatever we can do to make her [Ling's] life as easy as possible," explains Diablo. 
And while Penske is closed on Sunday, they don't charge SMV for two days when they book a Saturday move and can't return the truck till Monday.  "They've been really great for us," confirms Ling. 
It may seem surprising that a huge company like Penske is able to provide such hands-on service – Diablo explains that while Penske is part of an international corporation, "when you think about Vancouver, it's kind of like a family culture. That's why service [maintenance staff who are on site after hours] has our phone numbers and we have services' phone numbers if there's ever something after hours [that they need]." That kind of company culture is key when the client is a non-profit reliant on volunteers to pick up the trucks and has regular changes to schedules like SMV. "If Stephanie ever reaches out to us for a truck on the fly, we try and move stuff around to make it work because we realize the importance of why this truck is going out," Diablo says.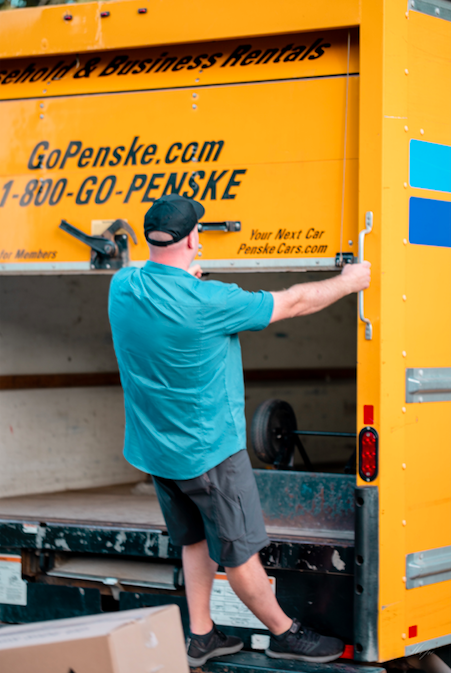 Increased demand for SMV services means that truck rentals have also steadily increased over the last three years. "In 2020 we did 92 days of rentals in total. In 2021 we jumped to 155 days, and now, as of [August] 2022 we're at 103 days, only eight months into the year," says Diablo. Considering each move equals approximately two days, it is clear Penske has taken the time to help Shelter Movers go the extra mile to serve our clients.

Penske works with other charities in the Lower Mainland, but "Shelter Movers is our primary non-profit [partner] in BC," notes Diablo. In addition to the Vancouver chapter, Penske partners with three other Shelter Movers chapters across Canada: Waterloo, Nova Scotia and Ottawa.