We're pleased to announce that we're extending our services to the Annapolis Valley in June 2021! The Nova Scotia chapter of Shelter Movers has been growing rapidly since we launched in 2019. Since then, we've been able to extend our services to the South Shore and now we will be serving Kings County, Annapolis County, and West Hants County. With our newest extension we will be serving over 60% of the Nova Scotian population.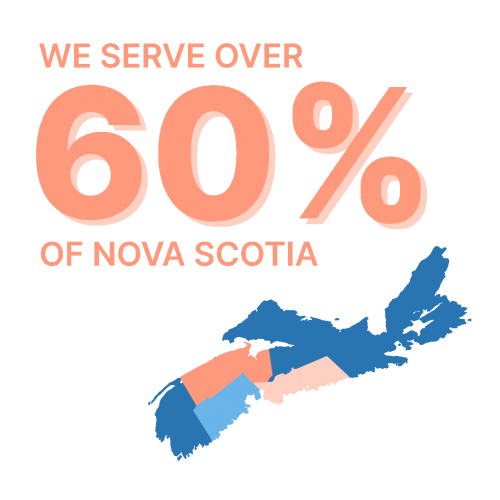 Enthusiastic Support From the Community
When we were exploring the possibility of extending our services to the Annapolis Valley we discovered that our reputation preceded us. A group of highly motivated volunteers advocated for us to expand into the Annapolis Valley and have helped us build the new extension. 
Our community partners in the Annapolis Valley have also been instrumental to the launch of our new extension. We are looking forward to serving the Annapolis Valley through our partnership with Chrysalis House. Our reach will match that of the emergency shelters allowing clients to be served in Annapolis, Kings, and West Hants County. Our operational partnerships include discounted rates from Enterprise and Penske for our vehicle needs and donated services of GardaWorld for security.
Through our presence in the Annapolis Valley, Shelter Movers aims to fill a gap in services for those experiencing gender-based violence. The potential for moves involving volunteer teams from the Valley and from our headquarters in the Halifax Regional Municipality will allow clients to widen their housing search without worrying about the cost associated with a long distance move.
Shelter Movers Nova Scotia is recruiting volunteers for the Annapolis Valley extension. If you'd like to help your community, meet new people, and gain valuable skills, please email VolunteerNS@ShelterMovers.com for more information.
The Annapolis Valley is situated between two mountains on the western shore of Nova Scotia. The mountains create a shield from harsh weather and produce ideal conditions for farming. This agricultural region is sparsely populated and it is difficult to access using public transportation.
The geography and inaccessibility of rural areas can be socially isolating, which increases women's risk of intimate partner violence. Women living in rural areas are 1.8 times more likely to experience intimate partner violence than in urban areas.
The pandemic further isolated survivors of intimate partner violence. Women were more likely to be trapped at home with abusive partners who monitored their behaviour. In response, women were more likely to remain in the planning phase of fleeing. For women in rural areas, planning to flee can be more difficult due to slow internet speeds, or a complete lack of internet access.
Operating in small tight-knit communities can be challenging from an operational perspective. When we launched our South Shore extension we improved our security and privacy protocols to ensure the safety of our volunteers and clients.
Read More About Our South Shore Expansion >>
Shelter Movers Nova Scotia is dedicated to helping survivors everywhere. With the launch of our Annapolis Valley extension along with the help of our community partners, donors, and volunteers, we can make this extension a success and help more survivors of gender-based violence in Nova Scotia.
For available shelter spaces in Nova Scotia, please visit the Transition House of Nova Scotia's website thans.ca or call their toll free number 1-855-0220.