What Is Safety Planning?
A safety plan is a personalized plan to ensure physical and emotional safety from a partner when preparing to leave an abusive situation. Safety planning focuses on supporting yourself  by following a specific set of predetermined actions. Proactively planning can help increase your safety during situations where you need to leave in a hurry.
Establishing Connections
An important aspect of safety planning and preparation is having trusting relationships with individuals that can support your planning process. Identifying a safe word with a neighbour or a co-worker that you can use during a crisis situation can be extremely helpful.
How to Safety Plan
Prepare Documentation
Collecting important information and documents that are readily available can make the process quicker and easier. Things to consider include: personal identification, a list of important contacts, and any legal paperwork.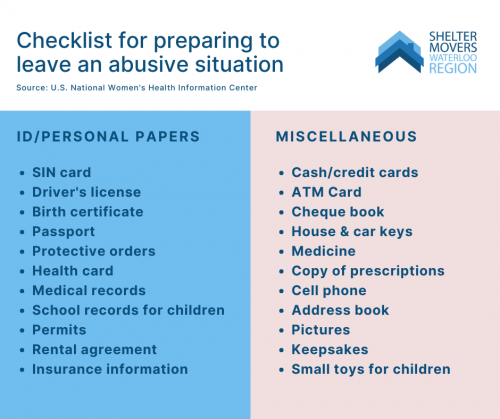 Identify Safe Spaces
Safe spaces are areas within your home or community where you can retreat to in an emergency situation. Safe spaces in your home are areas where you can escape easily and are away from dangerous items. Community resources can include shelters, community buildings, fire stations, and more.
Save Money
Saving even small amounts of money can be beneficial when leaving an abusive relationship. Starting your own savings account lessens financial dependency and can support the leaving process.
Keep a Packed Bag Ready
Having a bag packed and ready for crisis situations is vital to leaving an abusive situation. This bag can include your prepared documentation, keys, medications, and money. Hiding this bag can speed up the process of leaving an unsafe situation and ensures all important items are in one space.
After Leaving An Abusive Relationship
Consider informing friends, family, or co-workers about your situation to support the transition out of an abusive relationship. Try to keep a cell phone with you following a crisis situation to be prepared for any event. If you are considering moving due to unsafe conditions, contact a local shelter to explore their resources. Additionally, you can check online to see if there is a Shelter Movers chapter in your area that can assist with moving and storing your belongings. If you are staying at your current location, try to increase your safety by changing locks, and creating a neutral environment to exchange information if necessary.
Try this online interactive guide to safety planning. To find ways Shelter Movers can support you as you prepare to leave an abusive situation, check out our "What We Do" page.