At Shelter Movers Ottawa, our capacity has grown quickly. Now averaging nearly 25 moves a month, our volunteers are out moving a family to safety nearly every day. Let's take a look behind the scenes at how we do our moves!
First and foremost, our Volunteer Services team is hard at work ensuring that we have enough volunteers to support the varied roles within our organization. They staff volunteer positions for moves and other operational roles like coordination. They find volunteers for fund development to help organize events, write grant proposals, and find monetary and in-kind donors to ensure we have the funding needed to continue to move clients. The team finds writers, graphic designers, coordinators, administrators, recruiters, and more to fill volunteer positions within our marketing, finance, and of course, Volunteer Services departments.
Having a chapter with amazing staff and volunteers ensures everything runs smoothly and allows us to focus on our core operations, moving clients to safety.

Referral
Our clients are referred to us from a social worker or caseworker, which can include counsellors, social services, and occasionally even doctors or police. We don't take direct referrals and are often one of many support services referred by a caseworker.
 This process ensures clients get fulsome support for their varying needs, and we can focus on the immediate need of the move. Our team of intake coordinators are available daily to receive referrals from our partners. 
Intake
Agencies we've worked with before often simply send us the required documents; otherwise, we send the intake and COVID-19 forms when agencies contact us . These forms go over everything we need to know to complete the move. This includes the client's details, whether or not they need assistance with packing, approximately how much stuff we'll be moving, access information, locations, and any safety details we need to be made aware of. Once we've received all this information, we let the caseworker know that we'll take it from there. 
Coordination
Our team of coordinators then contact clients directly to confirm the information provided during intake and make any necessary additions or adjustments. The most important details are around safety and timing—ensuring we can get them out when they need to be, and coordinating with things like childcare or whether the abuser will be around. 
Our Move Coordinators go through additional trauma-informed training to ensure all communications are done with empathy and without judgement. Like everything with Shelter Movers, our move coordination is client-centric. In a time where clients may feel as though they have little control over what is going on in their lives, they are in control of this move; we're simply there to help and take some stress away. We confirm the list of items as much as possible, ensuring them that we won't turn them away for having "too much", and to try to get as much information as possible so we can come prepared. Great listening skills are the key to succeeding in this role so clients feel comfortable sharing the details needed. 
Once we have all the information, the actual move planning begins! We plan according to the size of the move, work in preferred dates and times, the number of volunteers needed, what vehicles we may need, the safety information, and any other information we may need for the move such as a need for pet care, an interpreter, or if there will be children on the move. 
The info then gets passed along to the Volunteer Services team to add to our volunteer call to actions (CTAs). These CTAs get sent out regularly to all of our volunteers so they can sign up for a move that fits their schedule. While that's happening, our Move Coordinators book the vehicles and security, all while keeping the client in the loop and making adjustments as necessary. 
Volunteers on the Move!
Once the move has enough volunteers indicating availability, our Operations Manager and Supervisor select the team. This ensures that first-time volunteers get on a move quickly, that we have someone to drive the type of vehicle needed, and so those who may not have made it on the last move they signed up for, can make it to this one. The team is complete with a Lead Mover, Drivers, and Movers. 
Currently, our teams have needed to be smaller than usual due to COVID-19 to ensure proper physical distancing and to be able to follow provincial guidelines. 
Leading up to Move Day
Our Move Coordinator confirms with the client that all is good to go for move day and goes over the  the COVID-19 screening questions once more. A confirmation email is also sent to the volunteers. Now that we're all confirmed and ready to go, the Move Coordinator creates the itinerary that goes over everything they need for move day; the move team with their position and phone numbers, the schedule, meeting places, and access details. The Lead Mover gets a slightly more detailed confirmation email with information about the client and any security.
Move Day!
If there are security concerns, often the move team will meet at a pre-move location with the security officers or police to go over the pick-up and ensure we're all there, so no one is arriving alone.
On move day, clients sign a move waiver similar to those of any moving service about the risk of damages when moving, and to ensure that we're moving their property, have permission to do so, and that we're not moving any illicit substances. If English or French is not their first language, we  work with interpreters to go over the waiver and get any other pertinent information.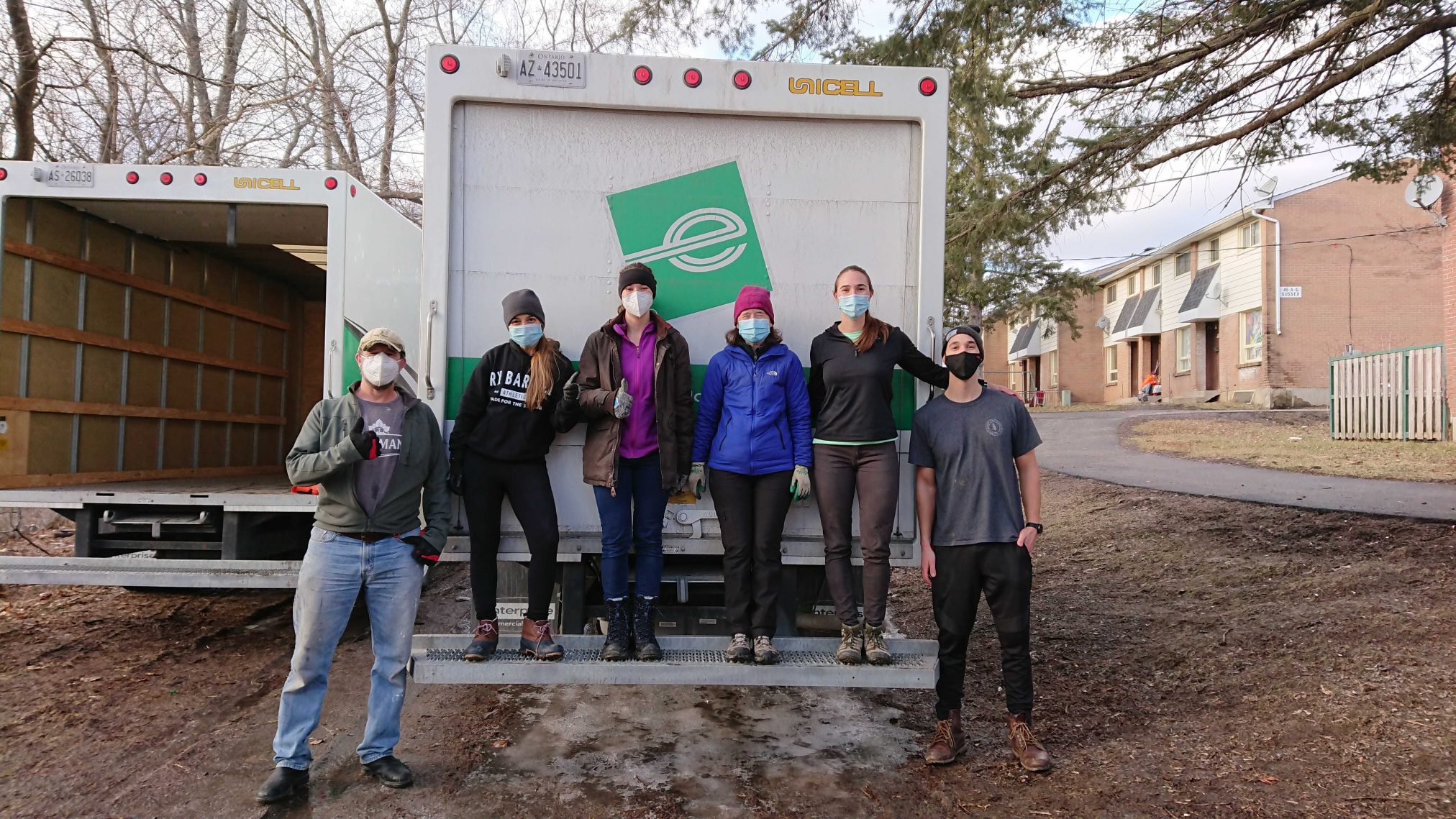 Once the documentation is all finished, the move begins! If necessary, we help pack, we load furniture and appliances into the vehicles, and off we go! If a client is going into a shelter, we provide free storage services for their belongings, and if they're going to a new home, we'll move the belongings there and help with large item set-up like assembling bunk beds or installing appliances whenever possible.
After the Move
The Move Coordinator will follow up with the volunteers, do a post-move COVID-19 check-in, and make sure they know about our EAP program as these moves can be quite draining. We give opportunities for feedback as well as we always want to know how our moves can go smoother. Then, our team follows up with the client to ensure everything went successfully post move, and informs them of the process should they need to use our services again.