Arts and culture are apart of what connects us as people; the closure of venues and cozy spaces to take in a show has been felt by many. Artists have needed to get creative in the work, taking to online performances.
Dave Kalil, a musician of 44 years, takes it one step further. Dave did his first live-streamed show in March of 2020 and hasn't stopped yet. His shows, #TakeABreak, are all about bringing people together. He livestreams these 90 minute sets from his home every Saturday night, bringing people together virtually from all over the world!
His ability to bring people together creates a wonderful sense of community – and Dave takes it even one step further. There's now a charity component to his shows. His first one was with the Youth Services Bureau, where donors pledged one dollar per person who logged into his show. Since that first event, he's worked with the Ottawa Mission, The Ottawa Food Bank and many other local organizations, including Shelter Movers Ottawa.
Dave Kalil and Shelter Movers Ottawa
Dave Kalil was introduced to Shelter Movers Ottawa by a family member who volunteers with our organization. At our inaugural Gala in September 2019, Dave performed with his group, the Dueling Pianos. In January 2021, Shelter Movers Ottawa was the charity component of #TakeABreak.
That Saturday night, Dave played his 45th Facebook live concert. We started the evening with pledges at $12 a viewer and quickly, matches and donations rolled in one after the other, from across the country. By the end of the night, Dave's concert raised over $9000.
One of the most amazing parts is that his shows are not fundraisers. There are no tickets to buy or required donation. People committed to pledging during the show, "the fundraising was just happening, it's been organic," Dave says.
With well over 100 people tuning in each week, more and more people are taking notice – even American singer, James Taylor.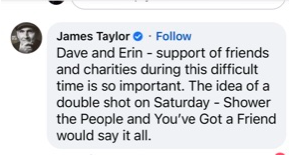 You can tune into Dave's shows every Saturday night at 7:30pm to listen to some amazing tunes, connect with your community, support a local charity, and most importantly, #TakeABreak.


Interested in partnering, donating, or volunteering with with Shelter Movers Ottawa? We'd love to hear from you. Learn more about us and contact us on our Chapter Page or on social media.