Jennifer O'Neil is a familiar face among the volunteers at Shelter Movers Nova Scotia. Her friendly smile can be easily spotted at local volunteer events and her charismatic leadership stands out during challenging moves. For many, it comes as no surprise that Jennifer has been appointed as the new Volunteer Service Manager for Shetler Movers Nova Scotia.
Since joining Shelter Movers Nova Scotia in January 2020, Jennifer O'Neil has volunteered for over 300 hours – and counting. After spending over two years as a Lead Mover, Truck Driver, and most recently as a Lead Mover Supervisor, Jennifer clearly has a passion for making a difference in Nova Scotia.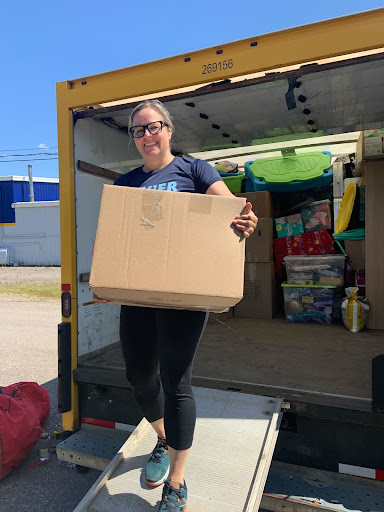 "To say Jennifer is an asset to the Shelter Movers team is an understatement," said Megan Lawrence, Shetler Movers Nova Scotia Operations Manager. "Her passion and drive shines through in every interaction she has with volunteers and clients. When she's not on a move, she's behind the scenes making sure volunteers are ready for their next move or making connections in the community to expand our reach. Working with Jennifer has been one of the highlights of being on the Operations team, I can't wait to work alongside her and watch her grow in the Volunteer Services Manager role."
Jennifer has also been active in helping recently arrived refugees from Ukraine with resumes, job searches, furniture delivery, and maneuvering all the complexities of moving to a new country. When asked about her passion for volunteering, she wholeheartedly recalls her mother.  
When Jennifer wasn't volunteering or giving back to the community, she worked in corporate leadership and management roles. With this experience, her unique strength lies in her servant leadership style and passion for helping teams achieve their full potential.
Furthermore, Jennifer recently completed the Salesperson Licensing Course at the Nova Scotia Association of REALTORS® and will be starting a career in real estate. As she is about to start her new career as a realtor, she can also fulfill her dream role with Shelter Movers Nova Scotia as the Volunteer Service Manager. Being intentional about her actions and decisions led her toward the path of her dreams.