The Relationship Between Homelessness and Domestic Violence
It's an unfortunate reality that homelessness and domestic violence are closely related. Children who experience domestic violence become vulnerable to becoming unhoused later in life. As adults, survivors of domestic violence may be forced to choose between dangerous living situations because their options are limited due to the housing crisis.
Children who experience family violence are more likely to become unhoused later in life. Based on a review of studies on homeless families, Rosenheck et al. (1999) concluded that "Interpersonal violence may well be the subtext of family homelessness. Abuse and assault seem to be salient features of homeless mothers' childhood and adult experiences. Women suffer its devastating medical and emotional consequences for the rest of their lives."
Children who are abused are more likely to exhibit behavioural problems that can lead to homelessness, such as: developmental delays, impaired relationship skills, substance abuse, and teen pregnancy. Survivors of childhood abuse are also more likely to become suicidal.
Later in life, survivors of domestic violence are more likely to stay with their abusive partners if they have no viable housing alternatives. Due to increased rates of domestic violence during pandemic, and social distancing protocols, there are fewer spaces available at shelters. 
– Marc Hull-Jacquin, Executive Director for Shelter Movers in the Globe and Mail
If individuals do become unhoused they are more likely to experience domestic violence. A Toronto survey of 450 people who were experiencing homelessness found that almost half of women (46%) were physically assaulted in the past year and one-fifth (21%) had been raped (Ambrosio et al. 1992). Unhoused individuals are forced into dangerous living situations where it is more difficult to defend their personal boundaries from potential abusers.
Government of Canada, Family Violence and Homelessness: A Review of the Literature – Literature Review
Experiencing domestic violence at any age can affect one's housing security. However, the biggest cause of homelessness is the inability to find affordable housing.
The Canadian Housing Crisis
The over-simplified explanation for the housing crisis across Canada is that there aren't enough affordable houses to meet demand. Currently, interest rates for mortgages are low which means that people may be enticed to enter the housing market. The housing crisis is exacerbated by investors who buy income generating properties and then charge exorbitant rents. As a result, people are spending more of their income on housing than they can afford, which puts them in precarious financial situations.
The Perfect Storm in Nova Scotia
On top of the trends in the Canadian housing market there are local trends that are making the Nova Scotian market more volatile. The population of Nova Scotia, particularly Halifax, has expanded over the past several years and the housing market has not kept pace with growth. Neil Lovitt, a vice-president with real-estate consultant Turner Drake, says that Halifax would need to create 20,000 to 25,000 housing units just to keep up with the demand from the past five years.
Another reason why the housing market is particularly hot in Nova Scotia is because our province fared very well throughout the pandemic. We had strict lockdown measures and our citizens generally respected the rules concerning travel, gatherings, masking, and social distancing. We made international headlines as a safe haven where residents could maintain a relatively normal lifestyle.
With the rise of remote work during the pandemic more people were considering moving to Nova Scotia. MacLean's magazine ranked Halifax as the best city in Canada because of its easy access to jobs, the internet, entertainment, and nature. Nova Scotians who relocated for work considered moving back home for the first time in years. Homebuyers from western Canada looked to Nova Scotia as a relatively affordable real estate market and were buying homes sight-unseen.
Now that pandemic restrictions are easing, students are returning to in-person classes in universities. However, due to social distancing measures there are fewer spaces in residences available. These students are desperate to find affordable housing in an unaffordable market. Jesse Sutherland, the president of the student's union at Mount Saint Vincent University says that this year students are more likely to be homeless or to "couchsurf" at homes of people who they barely know. 
Amber Fryday, Global News Halifax post-secondary students struggling to secure places to live
Some Nova Scotians are disproportionately affected by the housing crisis. Members of our Indigenous population were forced to attend residential schools and suffered immeasurable trauma. The traumatic effects of the residential school system affected generations of Indigenous folks and made it difficult to build intergenerational wealth. African Nova Scotians who lived in Africville, a community in Halifax, were evicted from their homes, and then their homes were subsequently demolished. The disenfranchised residents of Africville were not compensated for the theft of their property, or for their inability to build intergenerational wealth.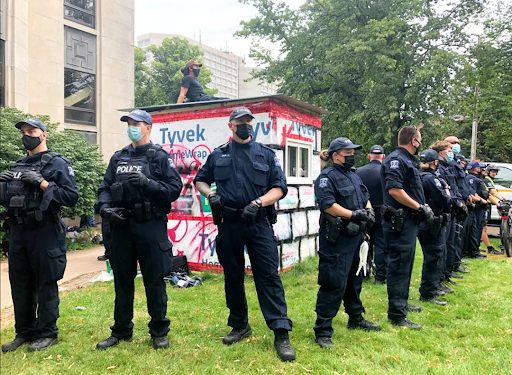 Halifax police surround one remaining shelter on Wednesday afternoon outside the old library on Spring Garden Road to keep protesters back. One protester sat on the shelter roof for hours to prevent its removal.
Source: (Mark Crosby/CBC)
Until recently, Nova Scotians who experienced homelessness were more likely to be low-income earners, but now working households are unable to afford housing. More and more of the population is at risk of losing their homes and being forced into dangerous living situations.
Richard Woodbury, CBC News Nova Scotia affordable housing shortage no longer just hitting low-income earners
Without affordable housing options crisis shelters were erected in public parks around Halifax. Generally, the shelters were supported by the local community. According to a MQO research poll, 6 in 10 Nova Scotians support the crisis shelters for those experiencing homelessness if shelters are full. 
However, in mid-July eviction notices were issued to people who were living in the crisis shelters. On August 17th, while the province was distracted by our municipal elections, the Halifax Regional Police prepared to conduct its siege on the crisis shelters. Halifax Mutual Aid sounded the alarm on social media and requested help defending the encampments. 
On the morning of August 18th, Halifax Regional Police violently tore down the crisis shelters in three public parks. By noon the police prepared to tear down the last remaining shelter next to the old Halifax Public Library. Hundreds of protesters arrived to defend the shelter and the police decided to respond with force. The police pepper sprayed the protesters and children. Sakura Saunders, a spokesperson for Halifax Mutual Aid, reported that "There were a few police officers who seemed intent on hurting them. One person was kicked repeatedly in the head," she says. "People were brutalized." 24 people were arrested as a result of the protest.
Halifax Mayor Mike Savage claimed that unhoused individuals were offered alternative accommodations before police dismantled the crisis shelters. However, journalists could not find unhoused individuals who were offered alternative living arrangements. Tim Bousquet, journalist for the Halifax Examiner, noted the mayor's lie and several more lies that were told about the shelter siege. 
El Jones, a Nova Scotian journalist and activist, had this to say about moving unhoused individuals from crisis shelters to hotel rooms:
"The same kind of people who complain about not wanting to see unhoused people in parks also don't want to see them in hotel lobbies or hallways. Most people sent to hotels end up kicked out within days and simply move around again to other sites … You can't have your own appliances in hotels so you can't even make tea or noodles. There's no kitchens. Often no fridge or it's broken. People living in tents and shelters aren't being unreasonable or 'refusing to follow rules,' they're choosing the community and stability they can self-determine over the revolving door of inadequate community services!"
Everyone Deserves a Safe Home
At Shelter Movers our mission is to provide free moving and storage services for survivors of gender-based violence because we believe that everyone deserves a safe home. We support our shelter partners and organizations that share this vital mission. The housing crisis cannot be solved by criminalizing individuals who are experiencing homelessness and it cannot be solved with police violence.