Avis Budget Group is a leading global provider of mobility solutions. They offer a range of options, from car and truck rental to on-demand car sharing that brings vehicles closer to where and when customers need them, by the minute, the hour, one-way, daily, weekly and months-long reservations. 
They are committed to playing a leading role in the transition to a sustainable economy and a more just, fair and equal workplace and society. Their Corporate Social Responsibility Report for 2020 can be found here.
Avis Budget & Shelter Movers Nova Scotia
Prior to launching their services in Halifax, Nova Scotia in July of 2019, staff and volunteers of Shelter Movers worked tirelessly to build relationships with local businesses that could offer their services at a reduced cost, in hopes of lowering the chapter's operational budget.
Our Biggest Advocate
One meeting with Tamara, Atlantic Canada's Regional Business Development Manager is all it took to build a meaningful relationship with Avis Budget Group.
Once she learned about the impact Shelter Movers would make on survivors across the province, she knew she had to get involved. Tamara went above and beyond to ensure that access to transportation would not be a barrier survivors would have to face when making the difficult decision to leave an abusive situation.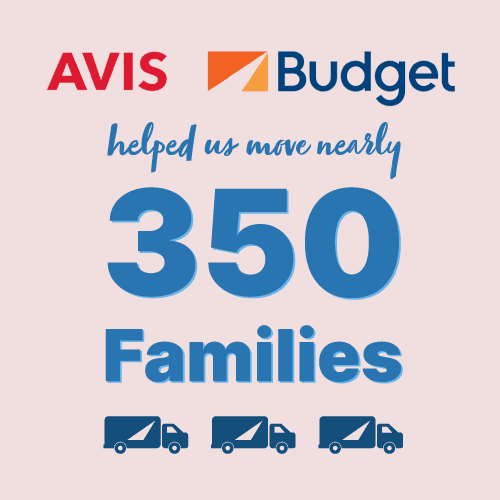 Thanks to Tamara's belief in our cause, Avis Budget has supported Shelter Movers Nova Scotia in completing close to 350 moves through the in-kind donation of a car or truck rental. The money that the chapter has saved from not needing to pay for vehicle rentals has instead gone towards moving more families to safety.
Avis Budget Provides Safety and Security
It is important to note that the passenger vehicles donated by Avis Budget are there to offer safe and reliable transportation from one move location to the next, for both the volunteers and clients. By using a rental vehicle as opposed to asking volunteers to find their own transportation, Shelter Movers Nova Scotia is able to protect their privacy and keep personal information unknown to the survivor and abuser.
Shelter Movers Receives the VIP Treatment
Shelter Movers Nova Scotia's Operations Team is pleased to work in close collaboration with multiple of the Avis Budget locations in Halifax Regional Municipality. Meghan Lawrence, Nova Scotia's Operations Manager, says "The flexibility and speed with which the Kempt Road and Burnside teams meet our needs is unmatched. Whether it's a last minute request or holding vehicles for us well in advance, Patrick, Glenn and their teams go above and beyond for Shelter Movers Nova Scotia. Without their compassion and dedication, we would not be able to help as many survivors as we do."
From the moment the chapter reaches out to Avis Budget to book a vehicle, to the time volunteers pick it up from one of their various locations, Shelter Movers Nova Scotia is treated like a valued customer.
Thank you to Tamara and her team at Avis Budget for helping Shelter Movers Nova Scotia fulfill its mission of providing moving and storage services at no cost to women and children fleeing abuse. It would not be possible without you.
If you or your business is interested in making an impact on survivors of gender-based violence, please consider partnering with Shelter Movers Nova Scotia. We are always happy to welcome new partners into our community. Email Chapter Director, Erica More to start the conversation.