3 bottles of premium imported wine
Complimentary no-contact delivery directly to your door
Sommelier led virtual wine tasting with exclusive insight into women's roles in the wine industry – live and interactive!
Sommelier recommended food pairings for each wine selection
Keynote address from a Survivor
Live updates on Silent Auction items and closing auction countdown
Tickets will be on sale until Sunday, May 9th at 5:00PM

 

due to delivery restrictions and the limited supply of our premium imported wines.
Please make sure your residential address is located within the map of the Greater Toronto Area to accept delivery of the premium imported wine selection.
The address entered when purchasing your ticket(s) will be used for delivery.
If you are located outside of the GTA designated delivery area, please consider donating to Shelter Movers by clicking HERE

 in order to support survivors of gender-based violence.
Read about the
beautiful wines you'll savour during this event, and get a taste of the wineries we'll be exploring together!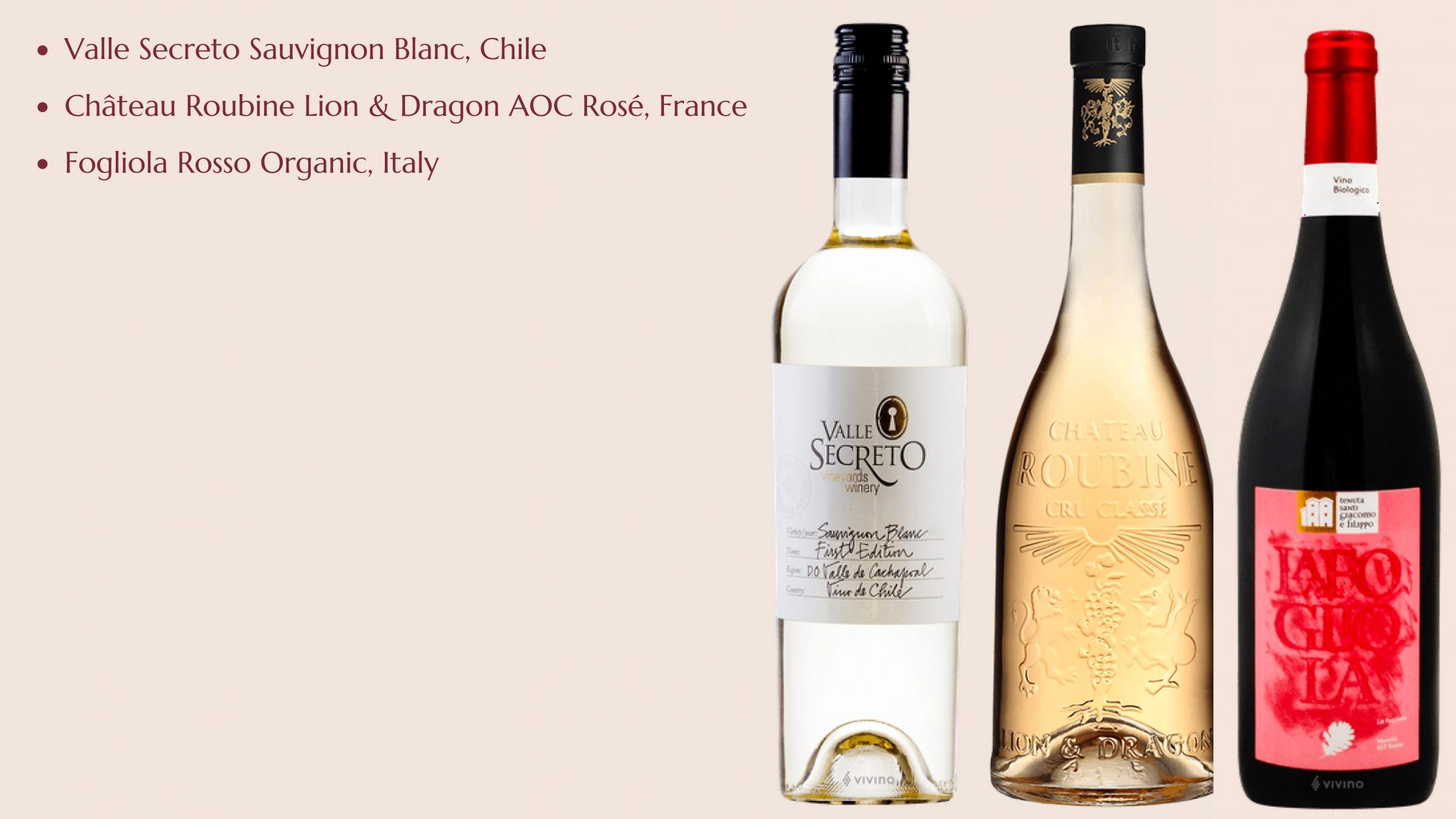 Valle Secreto,
Chile


Valle Secreto is a boutique winery, located in Cachapoal Andes, one of the wine-growing areas of Chile that is appreciated around the world thanks to the exceptional quality and character of its wines.  Their First Edition Sauvignon Blanc has all of the classic flavours of tropical fruits & greenery but with an added layer of complexity & elegance. With a focus on sustainability and women-led wine making efforts, this winery is definitely one you'll want to explore!

Château Roubine,
France
Valérie Rousselle, owner of Château Roubine, tells a story almost as good as her wines. Her winery is located in the heart of Côtes de Provence, one of the most prestigious regions of Old World winemaking. This rosé comes from the winery's most exclusive line-up, Lion & Dragon. Only the highest end grapes and techniques go into creating this luxurious wine. On top of that, her winery is fully organic, vegan, sustainable & biodynamic.
Tenuta Santi Giacomo e Filippo,
Italy
Women owned, run and operated, this winery is home to a wellness facility inclusive of organic restaurants, spas and business center. The ultimate work & play space for any wine loving female. "For us, organic is a way of life. Our commitment to our past also includes looking to the future …" With native Italian grape blends of Sangiovese & Montepulciano, this wine is the perfect example of a classic red from this region. Beautiful complexity & earthy notes makes this ideal for a spring day and versatile with a variety of foods.
| | |
| --- | --- |
| Lauren is a second-generation wine importer from Tre Amici Imports Inc. Growing up in the wine world, she discovered how wine was able to connect people and ideas from different cultures, while creating joyous experiences and occasions for everyone to share. As her family business and portfolio grew, Lauren became very connected to the winemakers and passionate about what made their wines so special. Her goal is to make the old-world wines more approachable while also embodying the new, modern wine movement. She believes in "pushing boundaries to create unique experiences for every kind of wine drinker." | |
Brandi Leifso, Founder of Evio

At the age of 21, Leifso was living in a women's shelter when she founded the concept for Evio, a conscious beauty company that is breaking stigmas. From humble beginnings, Leifso has raised millions through strategic alliances, angel investors and venture capitalist and has won the support of seasoned advisors to grow Evio into a respected thought leader in the beauty industry. Selected as one of Chatelaine Magazine's 2018 Women of the Year, Leifso is a feminist and advocate for domestic violence reform and equity. In 2019, Leifso spoke at Forbes Under 30's first-ever Global Women Summit in Israel, and Cosmetic Executive Women's Future of Cannabis in Beauty in Los Angeles after successfully closing the first ever merger and acquisition of a cosmetics company and publicly traded cannabis company at the age of 27. Leifso was also recognized as one of Canada's Top 25 Women of Influence in 2020.
Natalie MacDonald has been a true believer in Shelter Movers since the beginning. She is a warrior in the fight to end gender-based violence, and has generously lended her support and expertise to growing Shelter Movers and bettering the lives of survivors.

Not only is she an advocate for gender equality, Natalie is the sole Founder of her Boutique Employment Litigation Law Firm, MacDonald & Associates. She wrote the book on Extraordinary Damages in Canadian Employment Law and, in 2017, argued the leading case Galea v. Wal-Mart, setting the record precedent and highest amount for extraordinary damages awarded in Canada.

Representing both employees and employers, Natalie has won numerous awards for her expertise in employment law and was named the Employment Lawyer of the Year by Canadian Lawyer Magazine in 2018 and again in 2019 by Finance Monthly Magazine.

Shelter Movers is extremely grateful to work in partnership with Natalie as a driving force to ensure survivors are supported on their journey to a life free from violence. "